Life-changing technology, seaweed farming, transforming old plastic waste and a twist on artisan gin are just some of the brilliant new business ideas which are getting much needed expert help to flourish during the Covid-19 pandemic in Devon and Cornwall.
Over the next twelve months, twenty-five new and fledgling projects will take part in the Real Ideas' Start Something initiative. When the shout went out, for people to take part, the plan was to help ten emerging entrepreneurs. But the quality and breadth of ideas that poured in changed that.
Real Ideas' CEO Lindsey Hall reflected that when Lockdown One hit, action was needed: "The pandemic has changed our lives, the way we work and what matters most. Back in March, we shut our buildings. Challenging as it was, it gave us time to think and ask some difficult questions. Could we share the facilities we have? Did other people need them? Should we stop doing some things ourselves? Yes! was the answer and Start Something the solution."
Real Ideas, which owns and runs Devonport Guildhall, Ocean Studios, The Market Hall in Plymouth, C-space in Newquay and is developing the Library in Liskeard, has a long track record of helping businesses with practical advice, mentoring and help. These new projects, some run by people with no previous business experience, will now get access to specialist facilities, co-working spaces, expert business support mentors, events, workshops, webinars and one-to-one coaching.
They'll also have the opportunity to connect with partners, including Crowdfunder to test ideas with the public and raise investment. All this, plus the support the 25 businesses taking part will give each other.
As well as £3,000 pounds' worth of Real Ideas business support, they will also get a three-monthly introductory membership of the Devon and Plymouth Chamber of Commerce.
The 25 businesses being helped are hugely varied. They include Chameleon Gin, a Cornish artisan gin where you can create bespoke drinks by adding a sachet of hand-pressed botanicals. Precious Plastics Plymouth and Tavistock, which uses technology to transform unwanted plastic into new, useful objects and Bake Away, combatting social isolation through baking.
Georgina Moss, founder of Cornish-based Chameleon Gin, is thrilled with the extra support: "During lockdown/not lockdown/lockdown, it's been really difficult to behave like an ordinary business and go and meet other people. Real Ideas has provided an awesome platform for this which everyone on the course has been grateful for. Being able to talk to other start-ups and find support and encouragement really helps – as working from home can be so isolating."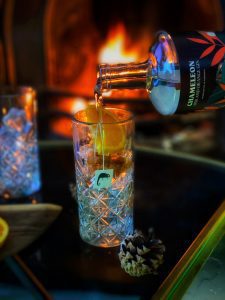 CoCo blends hi-tech with a teddy bear to help children with learning difficulties develop life skills. Using Near Field Communication tags on the toy, a mobile phone app can be used to scan various parts of the bear to gain step-by-step instructions on how to dress or wash your face.
Plymouth graduate Lisa Hocking came up with the idea and says being part of the project has helped her realise her dream: "I knew that my lack of real-world experience, combined with the current global situation was going to make turning CoCo into a real live business challenging.
"The team at Real Ideas are great for providing business advice and guidance and also providing necessary networking opportunities. More than this though the team encourage open debate and conversation. No idea is 'wrong' or a bad idea."
"I felt particularly drawn to Real Ideas as they have a strong mentality towards causes for social good and all of the businesses that they work with are eco-friendly and ethical. This was extremely important to me personally, but also something that is crucial to the development of CoCo."
Heyl Bakery will be one of the businesses making use of Real Ideas' commercial kitchens. Kate Langston and Sam Dennis will run the artisan bakery, which will be the first 100% plant-based bakery in Plymouth combining both sourdough bread and vegan sweet bakes". Their bread will be made using heritage grains and locally-milled flour, to create loaves and buns that are far tastier and more nutritious than commercially or mass-produced bread products. Sam comes to Plymouth from the renowned E5 bakehouse in London, while Kate is returning to her home town.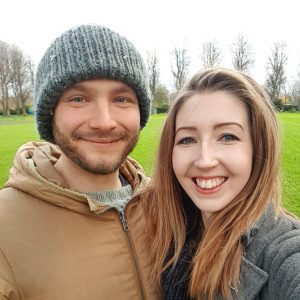 Kate says the opportunity to use a commercial kitchen is crucial to the business: "The costs of setting up a bakery can be eye-watering. Although we've been saving for a number of years, the prospect of being able to afford to set up a bakery of our own still looked very distant…. until we came across the Start Something scheme.
"In addition to having access to a fully-equipped bakery, the scheme also offers valuable mentoring and networking opportunities, as well as introducing us to fellow local business owners and entrepreneurs in the Start Something cohort. This has already proven to be incredibly useful – whether we've needed some advice on business insurance, or some tips on local suppliers."
Trillium is run Emma Gunn, a plant lover who wanted to help people get a little nature into their homes.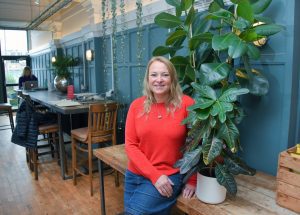 It was during lockdown that she says she found her home was lacking something: "I found I really missed having indoor plants around me to care for. I started to compile documents on indoor plant care and as soon as garden centres opened, I was in them buying plants to fill my house.
"The need people have for 'greening' up their houses has increased dramatically during lockdown, especially for those who had no green spaces to escape to in the early stages."
Exeter-based sisters Victoria and Laura Holmes are planning to develop Cornwall's seaweed farming industry via The Seaweed Project. As well as being a source of nutritious food for both humans and animals, seaweed aids marine eco-systems and helps reduce CO2 emissions.
The two self-styled 'algaepreneurs' who have backgrounds in marine science, art and marketing will also explore seaweed as a sustainable material.
They say the chance to take part in Start Something will be a great help: "We hope that by working with Real Ideas we will have some doors opened for us in terms of building our network and connecting us to people who can help us to realise our vision for Cornwall's seaweed farming industry, and also to help us with funding opportunities for our research and development ideas"
Lindsey adds that in a year that has been so tough for many, it's inspiring to see people with so many great ideas come forward: "We're delighted that so many entrepreneurs responded and are keen to use our facilities, access business support and connect with others. They are a dynamic bunch, people's creative response to adversity is always inspiring. Look out for lots of lovely things and support them, whenever you can and get planning. It's been such a success that we are thinking of running Start Something 2."
Start Something is part of the iMayflower project and has been supported by The Department for Digital, Culture, Media and Sport, who fund the Cultural Development Fund, which is administered by Arts Council England.
Find out more information on our Start Something page.
The full list of Start Something businesses are:
Some of the Start Something businesses are still in the pre-start phase and, as such, aren't listed above or are yet to create an online presence.