After years of languishing in the alcoholic wilderness, gin has in recent times re-invented itself to become the trendiest tipple to enjoy. It now comes in a wealth of flavours and there is a myriad of producers – from the big boys to small batch artisan producers.
Chameleon Gin was born out of a love affair which began in Australia in 2012.
It's founder, George Moss, hadn't even tried gin when she was introduced to it in an Adelaide bar with friends. It was love at first sip. In fact, she says she remembers the experience to this day: "It was a dull Tuesday night. We were the only customers in the place. The bartenders – because they had nothing else to do – took the time to teach us about gin.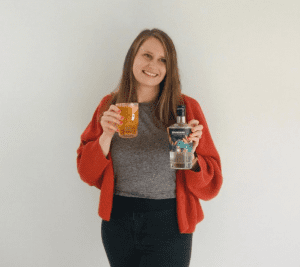 "We tried a selection of small batch gins from across the world. Each gin was served straight with its own bespoke blend of botanicals, edible flowers and fruit."
Eight years and lots of research later, George brought this experience back to her home county of Cornwall and Chameleon Gin was born.
Chameleon Gin is a unique pine and orange flavoured small batch Cornish craft gin. It comes with bio-degradable 'pockets' of infusion crammed with the finest dried orange botanicals – each hand pressed by George. Placed in the drink it changes both the colour and taste – just like its namesake.
George is thrilled to have support in her new venture: "I'm so excited and grateful to have been accepted on the Start Something course. The support that Real Ideas will provide is invaluable.
"My background is in marketing and there are so many other elements of running a business. Getting to grips with that has been hard and I've already made plenty of mistakes! From my first meeting I'm already doing things that are out of my comfort zone – which has been great."
George says 2020 has been a challenging year to begin a new business, but she's adapting well: "During lockdown/not lockdown/lockdown, it's been really difficult to behave like an ordinary business and go and meet other people. Real Ideas has provided an awesome platform for this which everyone on the course has been grateful for. Being able to talk to other start-ups and find support and encouragement really helps – as working from home can be so isolating.
In the future George says she will be taking part in pop-ups and events and will be making use of Real Ideas' commercial kitchen in Devonport Guildhall to press the botanicals: "I can't wait to see what this year brings in terms of learning and growth.
"It's only been a few months but Real Ideas has already given Chameleon Gin so much invaluable support – I can hardly imagine what a year of support is going to look like!"
https://www.chameleongin.co.uk/