We are looking for bold, innovative creatives from the LGBTQ+ community to take part in our programme this August.
We're working with members of the community, to celebrate and support the community, providing a platform for exhibiting artwork and showcasing practices. We are looking for Southwest based artists, muralists and food producers to represent the community.
Proposals which wave the flag for social and/or environmental change will be more favourable.
Exhibition Space
To be installed and exhibited between 9th – 29th August
Ocean Studios Café – we are looking for a group or individual artists to take over our space! Exhibitors are also welcome to apply for the mural opportunity below too.
Considerations
Our spaces are Grade 1 listed, you must adapt and display work in consideration to their limitations.

Sculptural pieces must adhere to health & safety and building guidelines.
As a minimum we request that you are a Real Ideas 'Join Us' Member to apply – so if you haven't signed up yet, please visit

www.realideas.org/membership/

and become part of our growing community

.

Commission for artwork sold is 30%

Artists must agree to our standard exhibition agreement.

The space will only be open during café opening hours.

The exhibiting space is free of charge.

You must think of the capability for the project to exist in some capacity online if necessary.

Private View mis free of charge and can be arranged.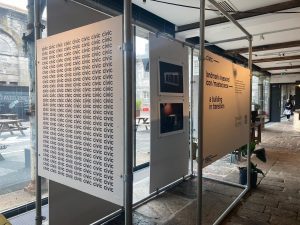 Mural Space
To be painted from 21st August
Mural Space in our courtyard – take over some of our hoardings in the Ocean Studios Courtyard, you'll get a chance to express your practice and test ideas on a large scale in the public realm.
Considerations
We're looking for murals to be diverse, bold and positive.

We love collaboration so we'll accept collective or individual proposals

We want the community to have a chance to enjoy the hoardings, so we propose for the mural painting to start on the 21

st

of August to align with In Their Image Art Fair.

Artists must use their own materials to create the mural

We'll be on hand to support the planning if this is your first mural idea or even if you are a mural pro

We'll provide the paint for artist(s) to return hoardings to original state

We'll expect a rough design plan to be sent prior to the execution of the wall to be signed off by Real Ideas

We're looking for murals that are creatively focused rather than commercial advertisements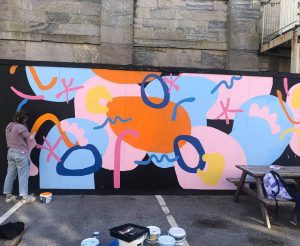 Food Producers
Our venues at Real Ideas are open and supportive platforms, we are looking for local food producers who align with our values to create the most delicious local foodie list out there. We expect all food producers to be inclusive of all communities.
Real Ideas is committed to taking responsibility for its own impact on the environment and society. We recognise that what we buy has sustainable implications, and we're actively working towards reducing the negative effects these purchases may cause. With that in mind, it's important to us that, besides being local and providing fresh and excellent food, we we're seeking suppliers who share our values and have a sustainable and environmental conscience.
Is this something you are passionate about too? We'd love to hear from you!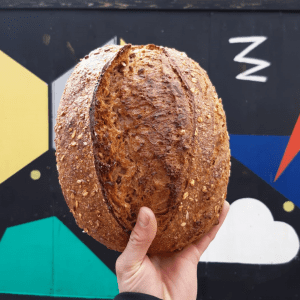 What's the process?
We are custodians of five buildings in Plymouth, Liskeard and Newquay, two of which are current renovation projects. They include Devonport Guildhall, Ocean Studios, CSpace, Market Hall and Liskeard Library.
This opportunity applies to Ocean Studios (Plymouth)
We invite you to tell us more about you and your creative enterprise.
We aim to be as inclusive as possible in our work but recognise we're on a journey. We also recognise the creative sector is biased towards those who are white, cisgender and non-disabled.
Our programme will be stronger with greater diversity and we welcome applications from those who bring difference. We have included a short equality, diversity and inclusion survey with this application process and if successful, we may ask you for further information about you and/or your workforce so we can better understand our reach and how, together, we can start to break down barriers to inclusion and celebrate diversity. The information collected from the survey will be anonymous and completion is voluntary, and won't be used to affect our shortlisting process in anyway.
For more information about how Real Ideas saves and uses your data please visit our website: www.realideas.org
We have provided a link to an application form below, (and the equalities, diversity and inclusion survey) please make sure to have read the considerations under each opportunity before applying. We are only currently accepting applications from groups/individuals who live within the South West region.
If you would prefer an alternative to writing, you can submit a short video – no longer than 3 mins or 4GB in size and submit it to francesca.hawkesworth@realideas.org