Into Film have lots on offer for schools and educators this Autumn, including CPD in Raising Literacy Through Film, Mindfulness and the Into Film Festival!
Enrol now for the next run of Mindfulness Through Film – launching in Autumn 2022.
Sign up for an Into Film account and register here.
You can also email Oli Loveday, Programme Delivery Coordinator for the South West, to find out more details: oliver.loveday@intofilm.org
Designed for teachers and educators of secondary-aged students, Mindfulness Through Film explores how film watching and filmmaking can be used to introduce mindfulness principles and exercises.  
Created in partnership with the Mental Health Foundation, this course includes a variety of film-based strategies to enable you and your learners to confidently engage with mindfulness. Discover how film can help you tap into the mental health benefits of mindfulness, such as enhancing focus, promoting self-regulation, increasing resilience, and improving interpersonal skills. 
Along the way, Into Film will give you practical advice on how to deliver these activities, and provide you with techniques to promote greater wellbeing. Throughout the course, you will be able to share learning experiences with fellow educators and have exclusive access to free downloadable lesson resources that will equip you with everything you need to get started with your students. 
This course also offers a free live webinar, with experts in mindfulness and filmmaking on hand to guide you through new activities, share their insights and answer your questions.
By the end of the course, you will be able to: 
Present strategies to help students acknowledge their thoughts and feelings and learn to respond to them productively 
Use stills and highlights from films to support learners in managing their mental and emotional health  
Facilitate filmmaking in lessons to encourage creativity, promote personal expression and strengthen communication skills 
Navigate how to take time out to care for your own mental wellbeing. 
"I think film is helpful to explore mental health because it gives young people the chance to do it in an objective way… they think about their own experiences but they don't necessarily talk about their own experiences. They have the opportunity to discuss things from a third person kind of view." 
– Educator, Into Film Moving Minds project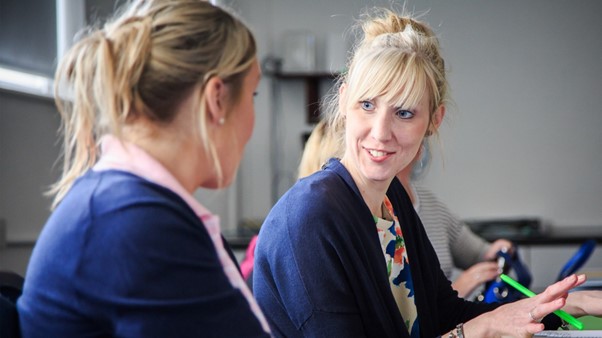 Want to learn new ways of using film in the classroom? Into Film's CPD training programme can help!
Their training for groups is available to educators working with 5-19 year olds. They can work directly with your school, youth centre or community group to provide training.
Their programme demonstrates the benefits of using film as text to develop learners' critical thinking, analytical and contextualisation skills across the curriculum.
Participants will develop a range of skills that are transferable between film and literary texts.
Filmmaking has the power not only to increase educational attainment for pupils across the curriculum but also to empower teachers with an exciting new means of assessing learning.
Their filmmaking training emphasises film as a teaching tool to encourage deep and active learning, and facilitates young people taking control of their own learning processes.
Their training can be delivered online or face-to-face. They are currently waiving fees for sessions delivered online.
Browse their wide range of sessions and register your interest by contacting Oli Loveday, Programme Delivery Coordinator for the South West: oliver.loveday@intofilm.org. He would be delighted to book one of our CPD session with your school.
After two years of restrictions and lockdowns the Into Film Festival is back!
Taking place between 8th- 25th November 2022, Educators can now register for updates via their website and you will receive email alerts when bookings go live.
Their partners the National Film and Television School are running some fantastic activity as part of their outreach programme. Access NFTS is designed to discover, inform and inspire a new generation of creative talent.
"As the UK's national film and television school, it's our mission to seek out home grown British talent, and allow it to flourish. We want to work with the film, television and game makers of the future, whatever your background, from school leavers to adults looking for access to the industry. Whether you want to ultimately study at the NFTS, or get a junior job and work your way up, our access programme will support you to reach your full potential."
Access NFTS enhances careers education by offering events, resources and activities that discuss routes into, and the broad range of careers, in the film, TV, and Games industry.
The outreach programme comprises of:
The Access NFTS UK Tour – in person events offering masterclasses for local universities, schools, colleges or organisations interested in or affiliated with the Film, TV and Games industry. The NFTS are looking for host schools for these sessions.
Access NFTS: In Conversation (Online/Virtual) conversations with the Head of Outreach at the NFTS and a current or past student who is now working in the industry.
Access NFTS: Discover (In person events at NFTS) Once a term the NFTS opens its doors to secondary education aged pupils (11-16 years old). The aim of this session is for young people to discover the NFTS, find out what happens at the school, have a tour of the site and meet some current students.
Upcoming summer events include masterclasses in sound design, directing and visual effects and discussion events with industry professionals such as Claire Dodgson (Editor – Minions, Despicable Me, The Lorax). Into Film would love to know if you'd be keen to attend events online or in person, or perhaps to host a masterclass session at your school. If you are interested in taking part, please email oliver.loveday@intofilm.org for more information.
N.B This programme is part of Access National Film and Television School (NFTS), thus, as you would expect, Into Film holds no responsibility for Safeguarding and Child Protection. Please carefully review any information given before booking events for your students. You will be able to speak to the event organiser directly to find out more information.