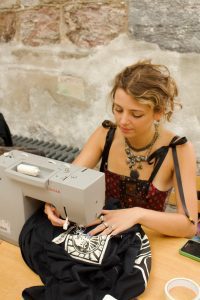 Nina Westwood is the founder of MINSKI, an independent UK-based slow fashion collective with a focus on creating sustainable and funky clothing using a variety of hand crafting techniques. MINSKI will be making an appearance at Print in Action Festival alongside vintage clothing brand, The Original Fruitcakes, in some exciting Print Parades! We caught up with Nina to find out more about MINKSI.
"I make screen printed and block printed fabrics which I then turn into a variety of funky clothing and accessories. I love to print onto fabric so that I can sew it up and turn my prints into functional, wearable pieces that you can show off wherever you are." Nina loves using Hunt The Moon inks "because of their eco-friendly and sustainable practice and their toxic-free ink."
Sustainability is an important park of MINKSI and Nina has previously collaborated with Ismay Berncastle to run a Print a Patch and Upcycle workshop, where you can make your own linocut printed patch or buy a MINSKI one to upcycle an old piece of clothing. At Print in Action Festival, MINSKI will be bringing you an exciting fashion extravaganza; as well as having their pop up stall upstairs in the event space where you can buy their brand new designs, MINSKI will also run a Print Parade runway show over the Saturday evening, showcasing and styling their bold new pieces!
Would you like to explore printed fashion and have a go at upcycling your clothes? Come along to Print in Action Festival- get your tickets here. Find out more about Nina and MINSKI on their website here, and follow them on Instagram @minski.official.