Sonja is a collaborator, facilitator and visual communicator. With her foundations in Illustration, Sonja moves between making work in response to a company or individuals vision or from her own perspective. In her posters, narrative booklets, digital illustrations and wall hangings she uses fluid shapes and bodies to communicate in warm nostalgic colours.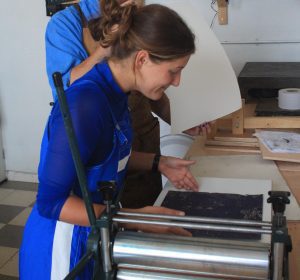 She is one half of Blue Roll Press a mobile printing duo, together with Luke Wade and is part of Bristol Print Collective. "I primarily use screen print, drawing my layers by hand. This year I've been really excited to discover making dry points on tetrapack!" Sonja loves to use Caligo Safewash in because it's "great for workshops" and Newsprint is her favourite paper; "Its always there for you and is where the first exciting pull lands." Her favourite tool is "The humble, satisfying, and beautifully named Squeegee!"
During Print in Action Festival she will be hosting a fun collaborative workshop with Bristol Print Collective to collaborate on a giant linocut themed around magical mysterious seaweed! Together you will carve the design into lino, ink it up and finally with a massive roller, print the artwork. Bristol Print Collective will also be giving a talk called 'The Importance of Collectives'. Buy your tickets here and find out more about Bristol Print Collective on their website here. You can follow Sonja on her Instagram @sonja.burnie.